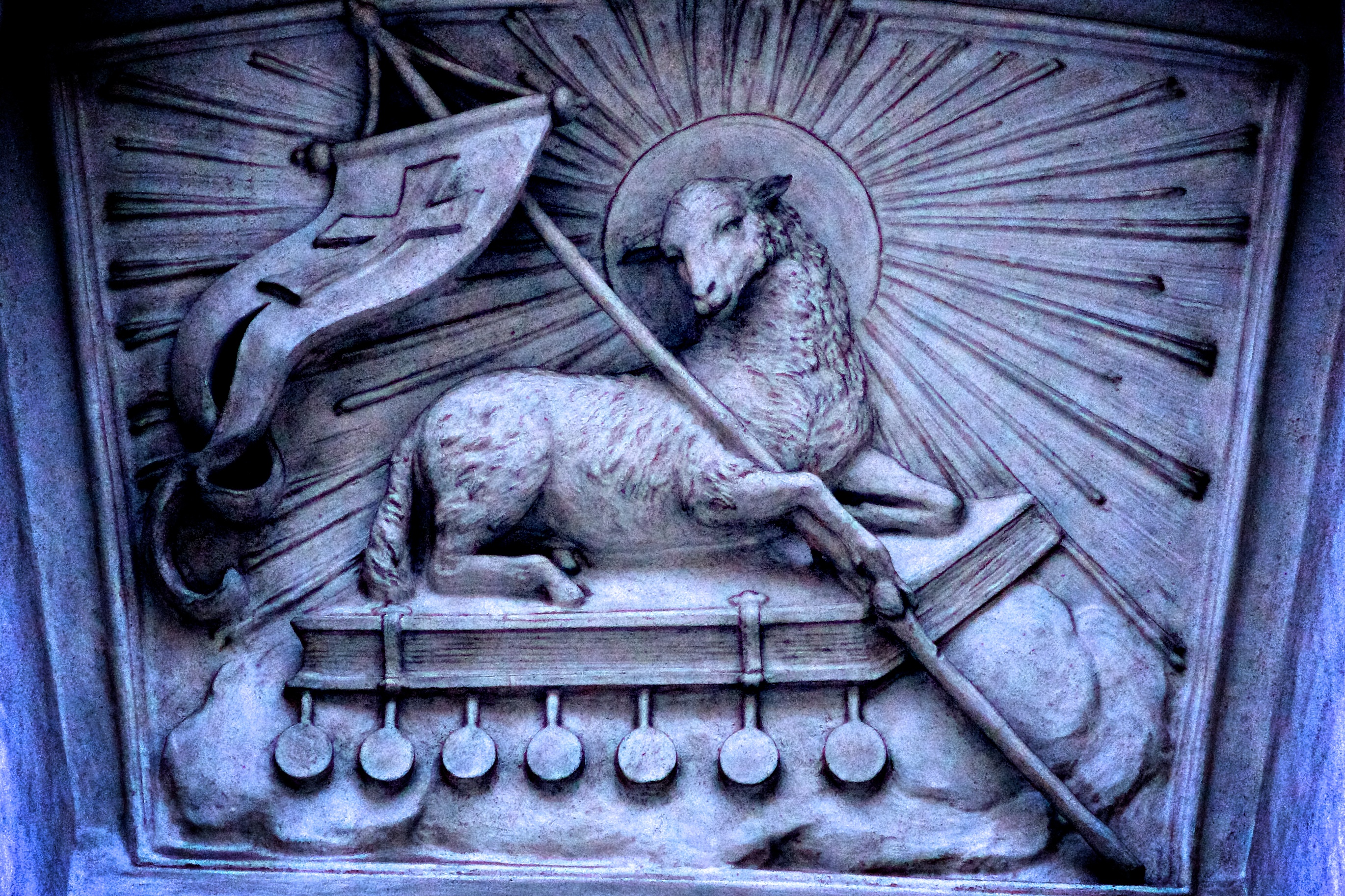 The Magnificat (Lk. 1:46-55)
And Mary said: "My soul magnifies the Lord, and my spirit has rejoiced in God my Saviour. For He has regarded the lowly state of His maidservant; for behold, henceforth all generations will call me blessed. For he who is mighty has done great things for me, and holy is His name. And His mercy is on those who fear Him from generation to generation. He has shown strength with His arm; He has scattered the proud in the imaginations of their hearts. He has put down the mighty from their thrones, and exalted the lowly. He has filled the hungry with good things, and the rich He has sent away empty. He has helped His servant Israel, in remembrance of His mercy, as He spoke to our fathers, to Abraham and to his seed forever."
The Benedictus (Luke 1:67-79)
Now [John's] father Zacharias was filled with the Holy Spirit, and prophesied, saying, "Blessed is the Lord God of Israel, for He has visited and redeemed His people, and has raised up a horn of salvation for us in the house of His servant David, as He spoke by the mouth of His holy prophets, who have been since the world began, that we should be saved from our enemies and from the hand of all who hate us. To perform the mercy promised to our fathers and to remember His holy covenant, the oath which He swore to our father Abraham:  To grant us that we, being delivered from the hand of our enemies, might serve Him without fear, in holiness and righteousness before Him all the days of our life. And you, child, will be called the prophet of the Highest; for you will go before the face of the Lord to prepare His ways, to give knowledge of salvation to His people by the remission of their sins, through the tender mercy of our God, with which the Dayspring from on high has visited us; to give light to those who sit in darkness and the shadow of death, to guide our feet into the way of peace."
The Gloria In Excelsis (Luke 2:13-14)
And suddenly there was with the angel a multitude of the heavenly host praising God and saying, "Glory to God in the highest, and on earth peace, goodwill toward men!"
The Nunc Dimittis (Luke 2:25-35)
And behold, there was a man in Jerusalem whose name was Simeon, and this man was just and devout, waiting for the Consolation of Israel, and the Holy Spirit was upon him. And it had been revealed to him by the Holy Spirit that he would not see death before he had seen the Lord's Messiah. So he came by the Spirit into the temple. And when the parents brought in the Child Jesus, to do for Him according to the custom of the law, he took Him up in his arms and blessed God and said: "Lord, now you are letting your servant depart in peace, according to Your word; for my eyes have seen Your salvation which You have prepared before the face of all peoples, a light to bring revelation to the Gentiles, and the glory of Your people Israel." And Joseph and His mother marvelled at those things which were spoken of Him. Then Simeon blessed them, and said to Mary His mother, "Behold, this Child is destined for the fall and rising again of many in Israel, and for a sign which shall be spoken against (yes, a sword will pierce through your own soul also), that the thoughts of many hearts will be revealed."
1 Timothy 3:16
God was manifested in the flesh, justified in the Spirit, seen by angels, preached among the Gentiles, believed on in the world, received up in glory.
Hebrews 1:3
[The Son], who being the brightness of His glory and the express image of His person, and upholding all thing by the word of His power, when He had by Himself purged our sins, sat down and the right hand of the Majesty on high.
Philippians 2:5-11
Let this mind be in you which was also in Christ Jesus, who, being in the form of God, did not consider it something to be held onto to be equal with God, but made Himself of no reputation, taking the form of a bondservant, and coming in the likeness of humanity. And being found in appearance as a man, He humbled Himself and became obedient to the point of death, even the death of the cross. Therefore God also has highly exalted Him and given Him the name which is above every name, that at the name of Jesus every knee should bow, of those in heaven, and of those on earth, and of those under the earth, and that every tongue should confess that Jesus Christ is Lord, to the glory of God the Father.
Colossians 1:15-20
He is the image of the invisible God, the firstborn over all creation. For by Him all things were created that are in heaven and that are on earth, visible and invisible, whether thrones or dominions or principalities or powers. All things were created through Him and for Him. And He is before all things, and in Him all things consist. And He is the head of the body, the church, who is the beginning, the firstborn from the dead, that in all things He may have the pre-eminence. For it pleased the Father that in Him all the fullness should dwell, and by Him to reconcile all things to Himself, by Him, whether things on earth or things in heaven, having made peace through the blood of His cross.
The Ter Sanctus (Revelation 4:8)
"Holy, holy, holy, Lord God Almighty, who was and is and is to come!"
Revelation 4:9-11
Whenever the living creatures give glory and honour and thanks to Him who sits on the throne … the twenty-four elders fall down before Him … and worship Him … saying: "You are worthy, O Lord, to receive glory and honour and power; for You created all things, and by Your will they exist and were created."
The Agnus Dei (Revelation 5:8-14; Revelation 7:9-12)
Now when [the Lamb] had taken the scroll, the four living creatures and the twenty-four elders fell down before the Lamb, each having a harp, and golden bowls full of incense, which are the prayers of the saints. And they sang a new song, saying: "You are worthy to take the scroll, and to open its seals; for You were slain, and have redeemed us to God by Your blood out of every tribe and tongue and people and nation, and have made us kings and priests to our God; and we shall reign on the earth." Then I looked, and I heard the voice of many angels around the throne, the living creatures, and the elders; and the number was ten thousand times ten thousand, and thousands of thousands, saying with a loud voice: "Worthy is the Lamb who was slain to receive power and riches and wisdom, and strength and honour and glory and blessing!" And every creature which is in heaven and on the earth and under the earth and such as are in the sea, and all that are in them, I heard saying: "Blessing and honour and glory and power be to him who sits on the throne, and to the Lamb, forever and ever!"  Then the four living creatures said, "Amen!" And the twenty-four elders fell down and worshipped Him who lives forever and ever. …
"Salvation belongs to our God who sits on the throne, and to the Lamb!" The  angels … worshipped … saying: "Amen!  Blessing and glory and wisdom, thanksgiving and honour and power and might, be to our God forever and ever. Amen."
Revelation 11:16-18; 15:3-4
… the twenty-four elders who sat before God on their thrones fell on their faces and worshipped God, saying: "We give You thanks, O Lord God Almighty, the One who is and who was and who is to come, because You have taken Your great power and reigned. The nations were angry, and Your wrath has come, and the time of the dead, that they should be judged, and that You should reward Your servants the prophets and the saints, and those who fear Your name, small and great, and should destroy those who destroy the earth." … [Those victorious over the beast] sing the song of Moses, the servant of God, and the song of the Lamb, saying: "Great and marvellous are Your works, Lord God Almighty! Just and true are Your ways, O King of the saints! Who shall not fear You, O Lord, and glorify Your name? For You alone are holy. For all nations shall come and worship before You, for Your judgments have been manifested."